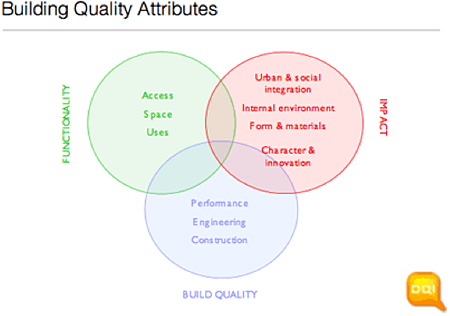 DELIVERING AND MEASURING BUILDING QUALITY
Good design is derived from a complex and creative process encompassing a wide range of activities, elements and attributes. A standard for measuring building quality has been created by the Construction Industry Council (CIC) and it measures the key attributes that constitute good design and produces high performance buildings. The CIC has developed the Design Quality Indicator (DQI) a standard method of assessing the quality of buildings in three main areas: Functionality, Build Quality and Impact. Functionality is concerned with the arrangement, quality and inter-relationships of space and the way in which the building is used. Build Quality relates to the engineering performance of a building which includes structural stability and the integration and robustness of systems, finishes and fittings. Impact refers to the building's ability to create a sense of place and have a positive effect on the local community and environment. DQI also encompasses the wider effect the design may have on the art of building and architecture. It is the interplay between all of these factors that creates a truly high performance building. The overlapping nature is demonstrated below:
Quality optimization starts with matching expectations about functionality with budget and scope during planning and design reviews and continues through construction delivery with a program of inspections, tests, and certifications. It requires a coordinated performance among the entire project team in order for a completed building program to optimize the satisfaction of client's and users' expectations. Having a process implemented at the beginning of the project will help define the goals as well as provide a continuous measurement system over time to make sure the objectives are being met. From visioning to post occupancy, a system like the Design Quality Indicator (DQI) helps eliminate errors, reduces cost, and improves overall building quality.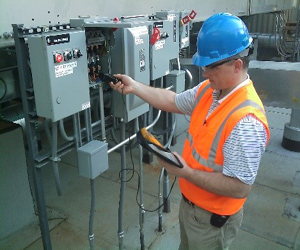 Building commissioning (Cx) is quality assurance process for achieving, verifying, and documenting that the performance of facility systems and assemblies meet the defined objectives and criteria for the project. It is a systematic process of ensuring that building systems perform interactively and effectively according to the design intent and the owner's operational needs.
The Commissioning Provider (CxP) should coordinate, manage and record the minutes of the OPR workshop. The CxP should also confirm the mandatory wide participation of persons in the workshop, including the O&M staff. The CxP should also have primary responsibility for writing the OPR document and checking the engineer's Basis of Design (BOD) document.
This is achieved by documenting the owner's requirements and assuring those requirements are met throughout the entire delivery process. This involves actual verification of systems performance; comprehensive operation and maintenance (O&M) documentation; and training of the operating personnel and implementation of long term trending and data logging to optimize operation. Building Commissioning Services may include Commissioning Plans, Total Building Commissioning, Systems Commissioning, Pre-installation Performance Testing/Commissioning, Re-Commissioning, Retro-Commissioning.